Preparing Your Home for a Floor Refinishing Project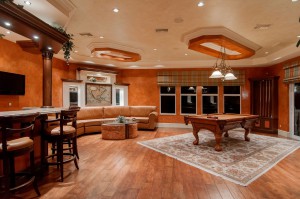 Preparing your home for hardwood floor refinishing can seem like a big job, but there are ways to make the process go smooth and easy. By listening to the advice of professionals, you can bring new life to your home without much hassle.
Choose the Right Time
Wood is sensitive to humidity and heavy rain. If you expect strong storms during your project, consider changing the date to a sunnier period. This way, the finish will dry more quickly, and you will be able to use your new floors with little delay.
Clear the Area
Before the finishing team arrives, store all furniture, rugs, and other items. If the floor is carpeted, remove that too. Your contractor may be able to help you with this step for an extra fee.
Ask your refinishing contractor if they recommend relocating during the project. If many areas of the home are affected, or if heating systems need to be powered down, it may be in your best interest to stay somewhere else while your floor is changed.
Keep Your Home Free of Dust
Any refinishing project creates dust as it removes old layers and replaces them with new coats. While a contractor may take precautions to keep the dust isolated, it can be a good idea to seal doors yourself, especially if you have family members sensitive to air quality. The process is simple: just close the door and seal the gaps with masking tape and plastic.
Choose a Finishing Product
After the floor has been sanded down, the contractor will apply new finishing to the wood to keep it shiny and free of markings. Many people choose water-based finishes because their scent is less intense, but you can ask a contractor about benefits of different products.
Refinished floors can transform your house into a bright, welcoming place. By preparing your home for hardwood floors refinishing, you can give yourself and your family the comfort of new flooring without complications.